Multi-wire Stranding structures Enables PC Strand Ideal Elements for Large Span Concrete Constructions
PC strands are popular in concrete building as low relaxation and high strength combined steel wire units for concrete reinforcing. The multi-wire structure enables a great strength in concrete pre-stressing. The strand length of 1800mm to 3600mm enables longer span structure construction, makes thinner and lighter elements with a reduction in number of piles. Using pc strands also saves consumption of energy in freight and handling. Especially for large-span concrete constructions in bridges, railway, highway, coal mine, stadiums and multi-storey buildings.

Common strand section profiles include 1x2, 1x3, 1x7 wire structures. Popular strands we offer are 1x7 wire structure unbounded pc steel strands: Diameter 12.7mm 7 wire strands, 15.20mm 7 wire, 15.24mm 7 wire and 15.70mm 7 wire. Weight ranges from 2MT to 4MT. Steel rod materials for processing of PC strands are high carbon steel 77B and 82B. Tensile strength can be 1670Mpa, 1770Mpa, 1860Mpa optional.

Technical Treatment in Production to Ensure Proper Using with Concrete:
The pc strands are made of continued drawing with large deduction stranding then stabilizing treatment;
The carbon steel materials have high rate of yield strength and ultimate strength, Low relaxation;
Steady modulus of elasticity, stress relieved in production, highly fixed with Concrete.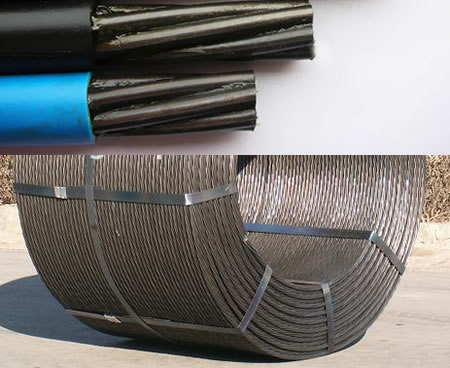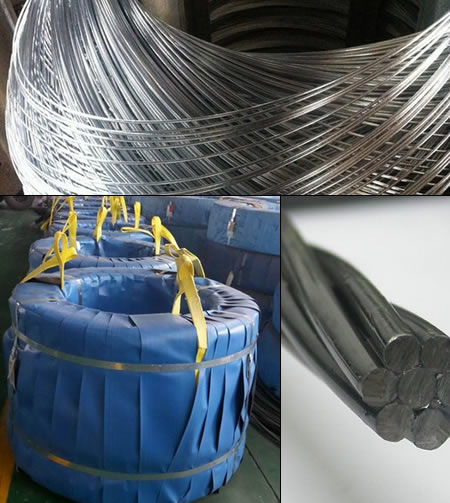 General Technical Information of P. C. Strands:
Structure: 1x7 wire, 1x2 wire,1x3 wire,1x19 wire
Property: Low Relaxation, High Tensile strength
Common type: Unbonded
Materials: Cold drawn steel wire
Tensile Strength: 1470Mpa ~ 1960Mpa
Yield Strength: 1320Mpa ~ 1760 Mpa
Elongation: Not less than 3.5%
Initial Load: Not more than 70%
Relaxation(1000h):No more than 2.5%
Strand Diameter Available: 9.53mm, 12.7mm, 15.2mm, 15.7mm, 17.8mm, 21.8mm
Packing Details: Standard Export Package (Wrapped by steel strips, waterproof cloth sheet, wooden pallet)
Standards: Following international standards in production of PC Strand: GB/T5224 (China Standard), ASTMA416, ASTMA421 (USA), BS5896(UN), JIS3536(Japan), AS/NZS4672(Australia), NBR-7483(Brazil), EN10138(Europe), ISO6934.
Uses: Mainly used as building material reinforcing strand for concrete structures such as Bridge Beam, Mining anchoring, Slope reinforcement, Dam reinforcement, offshore oil platform, Nuclear power plant, railway sleeper, bridges, railway station and multi-floor buildings.
Popular Strands:

Specifications of 1x7 Wire Structure Pre-stressed Concrete Strand:
Specifications
Tensile Strength
(Mpa)
Section Area
(mm2)
Grease Mass Per Meter
(g/m)
Minimum Thickness of Coat
(mm)
Friction Factor
(ц)
Effect Modulus
(k)
Mass per Meter
(kg/m)
1*7-Ф12.70
1720
1860
1960
98.7
43
1.0
0.04-0.1
0.003-0.004
0.875
1*7-Ф15.20
1570
1670
1770
1860
1960
140.0
50
1.21
1*7-Ф15.24
1860
140.0
50
1*7-Ф15.70
1860
150.0
53
1.30
We are listing in the following tables technical details of PC strands meeting different standards.
P. C. Strand Meeting Standard ASTM A 416:
Grade
Normal
Diameter
(mm)
Tolerance
(mm)
Area of
section
(mm2)
Theoretical
Weight per
1000 metre
Minimum
breaking
strength
(KN)
Minimum
load
At
percent
extension
(KN)
Elonga-
tion
(%)
Relaxation after
1000hrs at
Initial
Load
70%
Initial
Load
80%
250
9.53
+/-0.40
51.61
405
89.0
80.1
3.5
2.5
3.5
11.11
69.68
548
120.1
108.1
12.70
92.90
730
160.1
144.1
15.24
139.35
1094
240.2
216.2
270
9.53
+0.65
54.84
432
102.3
92.1
3.5
2.5
3.5
11.11
-0.15
74.19
582
137.9
124.1
12.70
98.71
775
183.7
165.3
15.24
140
1102
260.7
234.6
P.C. Strand Meeting Standard BS5896
Strand
type
Normal
Dia.
MM
Tensile
strength
(Mpa)
Specified

breaking load
(KN)
Load at 1%
Elongation
(KN)
Minimum
Elongation
at max
load-1%
Relaxation Value 1000h
Initial
Initial
Initial
Load
60%
Load
70%
Load
80%
7-wire standard
9.3
1770
92
81
3.5
1
2.5
4.5
11
1770
125
110
12.5
1770
164
144
15.2
1670
232
204
7-wire super
9.6
1860
102
90
3.5
1
2.5
4.5
11.3
1860
139
122
12.9
1860
186
163
15.7
1770
265
233
7-wire drawn
12.7
1860
209
184
3.5
1
2.5
4.5
15.2
1820
300
255
18
1700
380
323
JISG 3536 Standard PC Strand Shall Meet the Following Specifications:
Strand Type
mm Nominal Diameter
mm Diameter Tolerance
mm2
Nominal
Area
KG/1000m Nominal Weight
KN Min. Breaking Strength
KN Min. Yield Strength
Min. Elongation at Max Load
Relaxation
Initial Load Of Min Nominal Breaking Strength
1000h Value No More Than
15-7AN
9.3
+0.4
-0.2
51.61
405
88.8
75.5
3.50%
70%
2.50%
10.8
69.68
546
120
102
15-7AL
12.4
92.9
729
160
136
15.2
138.7
1101
240
204
15-7BN
9.5
54.84
432
102
86.8
11.1
74.19
580
128
118
15-7BL
12.7
98.71
774
183
156
15.2
138.7
1101
261
222
15-19W 15-19L
17.8
+0.6
-0.25
208.4
1652
387
330
21.8
312.9
2482
573
495
28.6
532.4
4229
949
807
AS 1311 Standard PC Shall Meet the Following Specifications:
Type
mm Nominal Diameter
mm Diameter Tolerance
mm2 Nominal Area
KG/1000m Nominal Weight
Min. Breaking Strength
Min. Yield Strength
mm Min. Elongation at Max Load
Relaxation
Initial Load Of Min Nominal Breaking Strength
1000h Value No More Than
Common Strand
9.3
±0.4
52
410
94
85%Min Breaking
strength
3.50%
70%
80%
2.5% 4.5%
10.9
71
555
125
12.7
93
740
165
15.2
139
1090
227
18
199
1560
311
Supper Strand
9.3
±0.4
55
430
102
10.9
75
590
138
12.7
100
785
184
15.2
143
1125
250
18
199
1560
338
Extra-
high tensile steel strand
15.2
±0.4
143
1125
261