Ribbed Steel Bar Welded Mesh

This reinforcement welded wire mesh panels are made of ribbed steel bars bonded via spot welding for slab and wall constructions. The ribbed steel rod used can improve bonding to the concrete and minimize any concrete cracking that may occur as a result of concrete shrinkage. This feature enables the ribbed steel weld mesh widely used as building materials for block slab structure reinforcing, and hollowed slabs reinforcement, building wall reinforcement and support wall reinforcement. In practical uses, it is commonly used with bar chairs as supports.
Materials and Types: Ribbed steel bar mesh can be divided into three types according to materials: Hot dipped galvanized, electro galvanized or stainless steel. It can be divided into two types according to steel bar sizes used: heavy type (diameter of bar or rod 12mm minimum) and light type (diameter of rebar rods from 3mm up to 10mm). Ribbed steel welded mesh can be divided into square hole and rectangular hole according to the opening types.
The popular panel size of this reinforcing mesh is 6m length ×2.4m width. It comes in a variety of bar thickness and the internal square or rectangular sizes. Common square mesh are either 200×200mm or 100×100mm.
Specification Details with Item No, Panel/sheet Size and Weight:
Ribbed Bar Welded Square Mesh Panels: Weight calculated based on defaulted panel size of 2400mmx6000mm.
| | | |
| --- | --- | --- |
| RIBBED STEEL SQUARE MESH NO. | Mesh x Mesh x Wire Size | Sheet/Panel Weight |
| 226 | 200×200×6.3mm | 33kg |
| 227 | 200×200×7.1mm | 41kg |
| 118 | 100×100×8mm | 105kg |
| 228 | 200×200×8mm | 52kg |
| 229 | 200×200×9mm | 62kg |
| 221 | 200×200×10mm | 80kg |
| | | |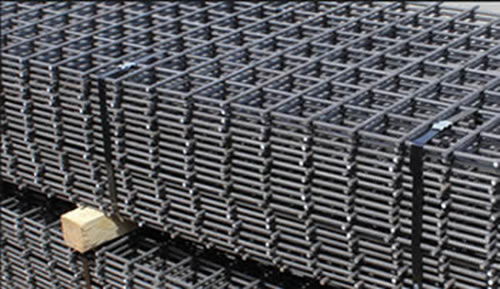 Steel Rebar Weld Mesh Panels, Galvanized Steel Finishes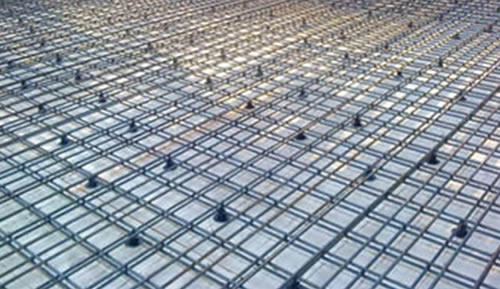 Steel Bar Welded Reinforcing Mesh, Opening 100×100 Made of Rebar Size 6mm.
Specification of Ribbed Steel Bar Welded Mesh Rectangular Opening:
Items
Longitudinal Bar (4.8m)
Cross Bar (2.4m)
Kg/m2
Kg/sheet
Size (mm)
Pitch (mm)
Area (mm2/m)
Size (mm)
Pitch (mm)
Area (mm2/m)
Rectangular-4812
12
100
1131
8
200
252
10.90
125.57
Rectangular-4810
10
100
785
8
200
252
8.14
93.77
Rectangular-4808
8
100
503
8
200
252
5.93
68.31
Rectangular-4807
7
100
385
7
200
193
4.53
52.19
Rectangular-4806
6
100
283
7
200
193
3.73
42.97
Rectangular-4805
5
100
196
7
200
193
3.05
35.14
Rectangular-4810
10
100
785
6
400
70.8
6.72
77.41
Rectangular-4809
9
100
636
6
400
70.8
5.55
63.94
Rectangular-4908
8
100
503
6
400
49.0
4.51
51.96
Rectangular-4907
7
100
385
6
400
49.0
3.58
41.24
Rectangular-4906
6
100
283
6
400
49.0
2.78
32.03