Steel Bar Welding Machine

Reinforcing steel bar mesh welding machine has the following major featur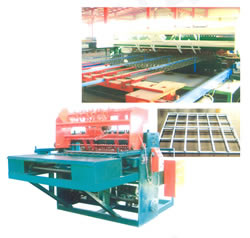 es:
Pneumatic component
High precision
PLC programmed control and touch display screen
Detailed description:

Our reinforcing steel bar mesh welding machine adopts computer control to realize precise welding time, balanced current and low failure
1. Main welding machine adopts famous imported pneumatic component to achieve long service life, high precision, great pressure, and tight welding spot.
2. Welding transformer applies new high efficient fence welding transformer with eight shifting grades that expand welding wire diameter range. Special-designed lower electrode block shows little wear rate and may be available on multiple planes.
3. Networking system uses computer programmed control, furring bars spacing adjusted steplessly, hole spacing changing is set by the program, and different furring bars spacing may be available on the same network panel.
4. Control system is served by PLC programmable controller and touch display screen, with easy operation interface and working pattern.
5. Blanking system has patent technology, rotary drum is available for single rod without manual displacement.
6. Welding panel has wide applications, which is suitable for industrial and civil construction floor slabs, house tops, walls, bridges, concrete pavements, platforms, airports, cement pipes, concrete castings, retaining walls, slope revetment, tunnels, wharfs, and dikes, etc.
7. Specific parameter:
Maximum weld panel width: 2500mm
Welding diameter: 5mm-12mm
Bar spacing:100mm, optional adjustable
Hole spacing: 100--300mm
Welding transformer air self cooling, power<1500KVA, one time pressing multiple welding.